(Click for downloadable flyers and press materials for Will's events)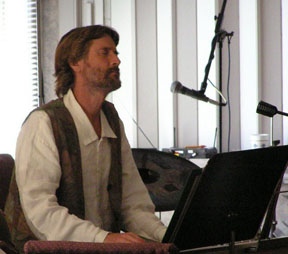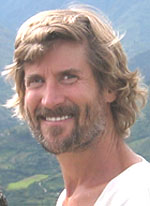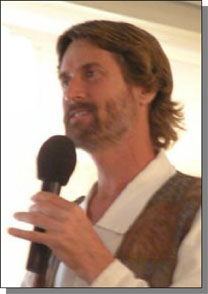 Will Tuttle, Ph.D., currently appears at progressive churches and centers throughout North America and has been featured at thousands of spiritual gatherings and conferences over the past 25 years. His music and message have consistently generated an enthusastic and appreciative response. At churches, he typically presents the morning Message, Special Music, and Meditation, and later gives an educational seminar on developing intuition and a concert, "Piano Passion." These generate powerful energy for personal and planetary awakening.
"One of the most profound spiritual experiences of my life." --
Rev. Suzanne Carter, Unity Minister
Will Tuttle helps people awaken their intuitive powers and spiritual wisdom, opening the way to deeper fulfillment and more creative living. Join him for "Opening The Intuitive Gate," a fascinating seminar revealing some practical keys that can increase your intuitive ability, leading to self-confidence, enhanced creativity, inner peace, increased compassion for others, more harmonious relationships, emotional healing, and the deeper insight into your life's purpose.
Uplifting, philosophical, musical, inspiring and reassuring, this seminar can change lives, inviting spirit to work its wonders on the ultimate frontier: the human heart. In the workshop we work with meditation, imagery, and exercises using Will and Madeleine's original music and art.
(Click for downloadable flyers and press materials for Will's events)
(Click for a list of endorsements or Unity references for Dr. Tuttle)
A Sample Sunday morning message at Unity in Cincinnati (MP3 audio)
Sample Sunday morning message at Unity in Federal Way, WA (Video)
Sunday morning music, meditation, & message at Unity in Federal Way, WA (Video)
Sample Workshop Presentation:
Opening The Intuitive Gate (1.5 - 3 hours)
Dr. Tuttle's insights include:
How to meditate more naturally
The value of practicing true mindfulness
Tools for hearing more clearly the "still, small voice"
Ways to unleash the power of imagination
How to live in the present and enjoy the richness of every moment
An ancient secret for awakening the love, compassion, joy, and peace within
Bio:
Will Tuttle, an acclaimed writer, educator, pianist, and composer, has presented widely throughout North America and Europe. Author of the #1 Amazon best-seller The World Peace Diet and recipient of The Peace Abbey's distinguished Courage of Conscience Award, he has also taught over 20 different courses at the college level, including courses in mythology, philosophy, comparative religion, and creativity.
His Ph.D. dissertation in education from the University of California, Berkeley, focused on educating intuition in adults and was nominated for the Best Dissertation Award. A Dharma Master in the Zen tradition, he has done intensive training in Korea, and has practiced meditation for over 35 years, studying contemplative Christianity, and a variety of non-Western spiritual traditions.
He is devoted to planetary awakening through spiritual education and to spreading uplifting original music through concerts and his critically-acclaimed albums, the latest being The Call, OceanPrayer, SkyHigh, AnimalSongs, Islands of Light, and Ascension.
Rev. Tuttle travels with his spouse and life partner, Madeleine, a Swiss visionary artist, providing seminars, concerts, lectures, TV & radio presentations, meditation retreats, exhibits, and individualized music and art portraits.

"Will has that rare ability to communicate effectively with his audiences from both the sense level and the realm of intuition." -- Tom Witherspoon, Unity writer and minister

"Will is not only an entertainer and an educator, but a spiritual uplifter, as well. Participants found his music inspirational and his presentation gently challenging. I experienced him as a 'partner' in the Sunday service and would surely welcome him in my ministry at any time." -- Rev. Claudell Hefner, Unity minister and teacher
If you are interested in having Will present a uniquely inspiring musical message at your center or for your event, you may contact him through Karuna Music and Art at:
Dr. Will Tuttle
1083 Vine Street
Healdsburg, CA 95448
800-697-6614 or 707-207-5020 (message)

Will's Music | Madeleine's Art | Portraits | Seminars | Schedule | Links | Contact | World Peace Diet| Privacy | Order | Checkout